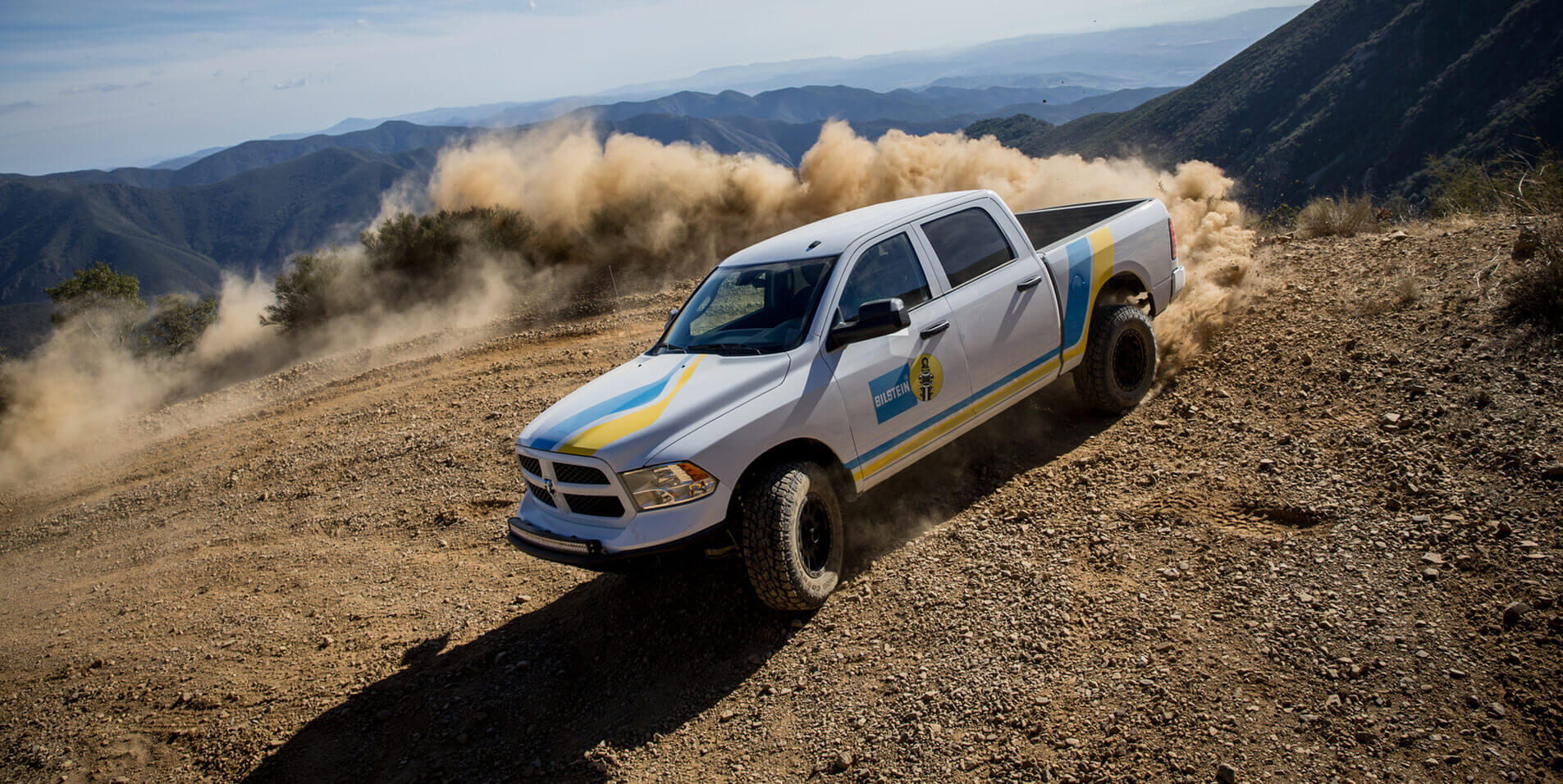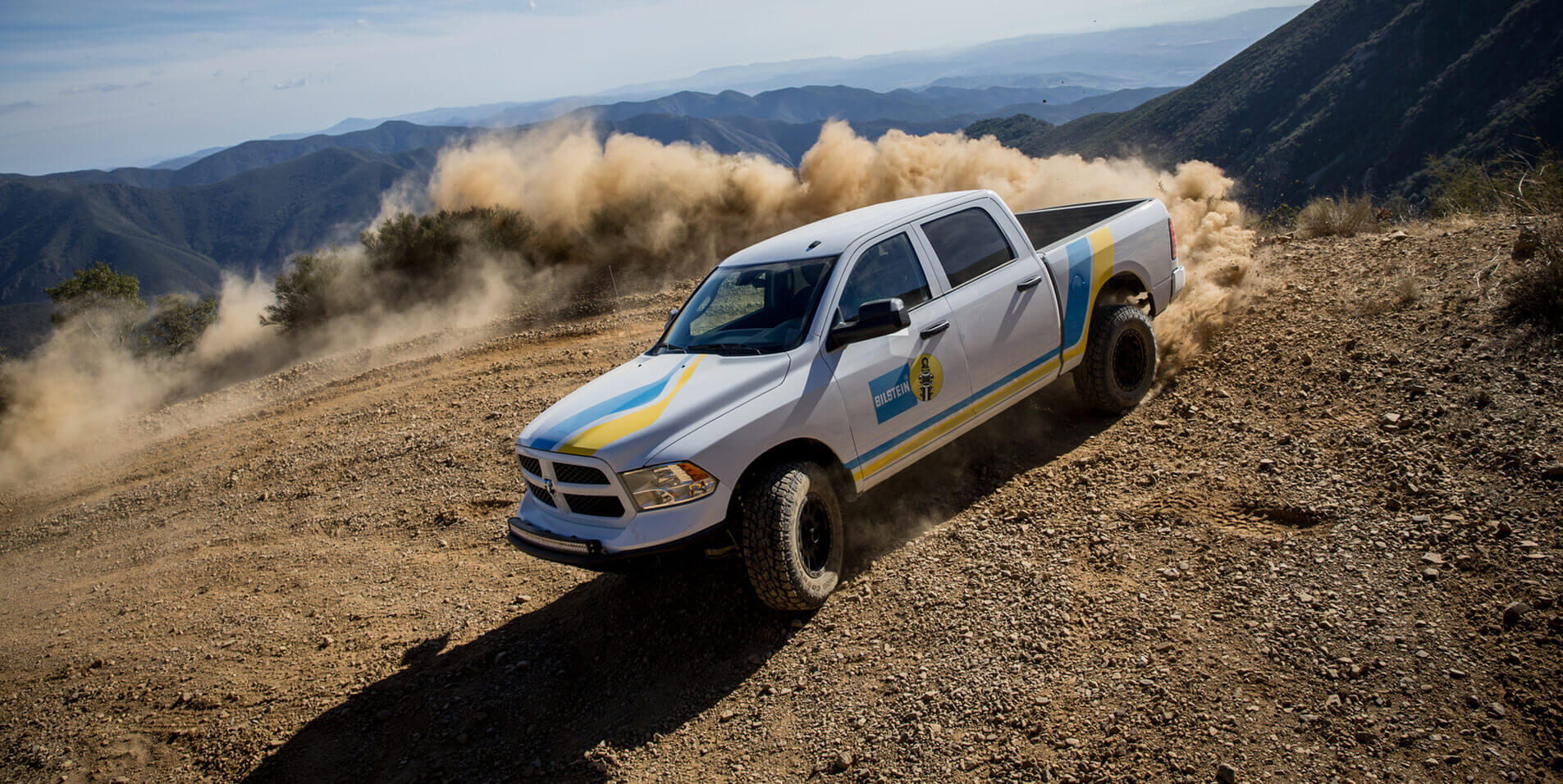 RAM 1500 Trucks B8 6112 and 5160
Drive it like the fun starts where the pavement ends.
Are you an adventure seeker? We have exactly the right shock absorber for you. With BILSTEIN B8 6112 or 5160 you will experience off-road on another level.
Perfect ground clearance for your off-road adventure.
Designed for the serious off-road adventure seeker, the BILSTEIN B8 6112 and 5160 kits are the ultimate suspension solution. B8 6112 coilover kits optimize off-road and on-road capabilities with a 60mm digressive piston for increased damping control. Our B8 6112 shock absorbers come equipped with an adjustable spring seat perfect for leveling or lifting your vehicle, increasing ground clearance, and installing larger tires. B8 5160 shocks provide the added benefit of an external reservoir and tailored damping profiles.
Keep scrolling to learn more!
Large 60mm body for increased oil capacity, cooling, and long-term durability
60mm digressive piston improves ride comfort and control over rough terrain
Vehicle specific tuning
Monotube design ensures consistent, fade-free performance in all conditions
Adjustable spring seat offers 0-2.75in of lift, depending on the application
Custom engineered cold wound linear springs for enhanced vehicle control and ride comfort
Utilizes OEM top mounts for ease of installation and superior fitment
Kit includes (2) 60mm shock absorbers, (2) billet hard anodized spring seats, and (2) springs
Available for late model trucks and SUVs which utilize a front coilover suspension
BILSTEIN B8 5160 recommended for rear applications
Made in the USA
BILSTEIN Online Catalog
Visit the BILSTEIN Online Catalog and check out about the BILSTEIN products available for your vehicle. Also get access to our catalogs for special products and much more.
Find your shocks now
For aggressive off-road use
Looking to improve your suspension for aggressive off-road use? BILSTEIN B8 5160 shock absorbers are the ideal solution for your lifted truck, Jeep or SUV. If you've upgraded to a B8 6112 front suspension system, a B8 5160 rear shock is the ideal pairing. The model-specific tuning of the B8 5160 is tuned to provide the best possible compliment to the front B8 6112 system.
Maximum vehicle control even on the harshest terrain.
With an added remote reservoir, the BILSTEIN B8 5160 provides ultimate vehicle control on even the harshest terrain. Zinc plating and increased oil capacity dissipate more heat assuring long term durability. Reservoir mounts are included in the box. An optional billet aluminum reservoir clamp is available for a more clean and compact look.
46mm monotube design ensures consistent, fade-free performance in all conditions
Self-adjusting deflective disc valving reacts immediately to surface changes enabling maximum vehicle control
Remote Reservoir increases shock oil capacity for greater heat dissipation
Designed to easily install in vehicle's stock mounting locations
Unique swivel banjo fitting allows 360° rotation
Increases wheel travel on most applications
B8 6112 recommended for front applications
Made in the USA